Adobe Captivate
Adobe Illustrator
Adobe Premiere Pro
Animation
HTML
Squarespace
Videography
xAPI
Xapiapps



Adobe Audition
Adobe Photoshop CC 2018
Articulate 360
Articulate Storyline
Asana
Audacity
Canva
Camtasia, TechSmith
Dropbox
Google Drive
LMS - Cornerstone
LMS - Training Partner
Microsoft Office
Slack
Smartsheet
Snagit, TechSmith
Survey Monkey
UI/UX Concepts
VideoScribe
Visme
Zapier
ADDIE
Adult Learning Theories
Assessments
Blended learning
Bloom's Taxonomy
Creativity
Communication
Design document development
Evaluations
Gamification
Ideation & innovation
ILT Design
Infographic design & development
Kirkpatrick Model
Live Teaching & Facilitation
LMS System Administration
LMS Implementation
Motivation
Needs Analysis
Project Management
Rapid Prototype
SAM
Screencasts
Strategy, organization, flexibility
Writing content & scripts
Conference Presentation
DemoFest Participant, 2017
DevLearn Conference, Las Vegas
Participating in DemoFest was one of the highlights of my career as an instructional designer.
It started with an idea - using a software called xapiapps to perform employee coaching at the moment of observation by utilizing mobile devices.
Coaching this way created the most impact by removing the stigma of coaching as punitive by utilizing an interactive app, automating follow-up for both the coach and employee, and by keeping it informal and on-the-go.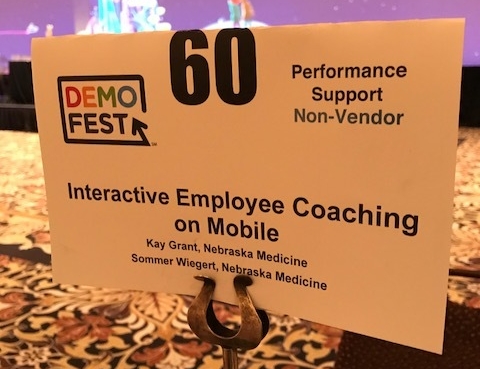 I spoke non-stop for two hours sharing our lessons learned from the pilot test with hundreds of my industry colleagues. I answered questions and told stories of success and failure. While we did not win our category award, I fell in love with the whole experience.
It made me realize how important it was to give back by adding to the innovation and growth of our industry. I can't wait to do it again!
Purdue University, West Lafayette, IN
M.S.Ed in Learning Design & Technology
GPA 3.98
University of Nebraska at Omaha
B.A. in English
Concentration: Rhetoric & Linguistics
Minor: Communication
Accomplishments
Regional Chair of the NE/IA Cornerstone (LMS) User Group, 2017-2018
2017 DevLearn DemoFest Participant, Las Vegas NV.
"Interactive Employee Coaching on Mobile"
Golden Key International Honor Society Member
James C. Horejs English Scholarship, 2007
Instructional design changes constantly. Technology moves faster than most of us can keep up. I believe that as educators, designers, and developers, we must constantly be building our own toolbox, and experimenting with new applications, tools, and techniques. With that in mind, this is my personal roadmap of skill development I'm currently building on or will be within the next calendar year. I love learning and I love experimenting with new software, so this list is ever-changing.
The list is in the order of personal importance.
JavaScript

Adobe Captivate

Adobe Illustrator

Adobe Premier Pro

GoAnimate

Videography & Photography

Adobe AfterEffects

Podcasting
After the amazing experience of presenting an adult learning project and new technology at the DevLearn conference in 2017, I will also be pursuing presenting and competing more in 2019-2020 and publishing articles on instructional design and learning.